Four aggrieved governors in the Peoples Democratic Party (PDP), known as the Integrity Group, Thursday arrived late at Mapo Hall, Ibadan, venue of the flag-off of the re-election campaign of Oyo State Governor Seyi Makinde.
The governors arrived at the campaign venue in a black minibus after several hours of waiting by both supporters and chieftains loyal to the governor.
The governors – Nyesom Wike (Rivers), Okezie Ikpeazu (Abia), Samuel Ortom (Benue), and Ifeanyi Ugwuanyi (Enugu) – alongside Mr Makinde make up the G5, a group of governors demanding the exit of the party's national chairman, Iyorchia Ayu. The group has also refused to support the presidential candidate of the party, Atiku Abubakar.
Messrs Ayu and Atiku were conspicuously absent at the rally.
Former governors Olusegun Mimiko (Ondo) and Ayodele Fayose (Ekiti) were also present at the rally and wore the customized outfit worn by the G5 governors.
Mr Makinde's wife, Tamunominini, had earlier arrived at the venue of the event in the company of a former Speaker of the Oyo State House of Assembly, Monsurat Sunmonu.
Deputy Governor Bayo Lawal had also arrived and sat in the hall.
Popular Yoruba musician, Saheed Osupa, was on the band stand as the governors arrived at the venue and ascended the stage.
However, the merriment suddenly came to a halt when the power generating sets used to power the stage suddenly went off.
The situation, which lasted for over 25 minutes, however, did not stop the supporters carrying various sizes of banners and placards. They also danced to the music to makeup for the power outage.
The major roads leading to Mapo hall were closed.
Some members suspected internal sabotage for the electricity situation but such a claim could not be verified at the time of this report.
Attendees are aggrieved
While Mr Makinde and his G5 colleagues continue to work against the interest of their party's presidential candidate, many of the attendees at Thursday's rally said they were not comfortable with the situation.
A party member, Hakeem Aina, who spoke in Yoruba, noted that "many that are here are only to take money, they are not happy with the structure and current situation of things.
"No one can force me against Atiku. I didn't even want to come, it was my ward secretary that said we should just come, take money and leave."
Another member who identified himself simply as Akoko stressed that the G5 governors are pushing their agenda and not his personal wish. He said he will vote for Atiku in the presidential election.
"I only came here on an excursion, nothing more," he said.
"All they are saying remains their headache. I wonder how our governor will return if he is not supporting Atiku. Will he tell us to vote for APC or any other party in February and now tell us to vote for him during that of governorship? I will wait for his explanation."
Meanwhile, during the programme, supporters at a point started shouting Atiku! Atiku!! Atiku !!!
Speaking at the rally, The Rivers State governor enjoined the people to re-elect Mr Makinde adding that the Oyo governor will communicate the preferred candidate of the G5 governors to them.
"Let me thank you (referring to the crowd) for making the assurance available in person of a dependable and young man you can trust, a young man you can go home with your two eyes closed, a young man when he tells you Yes, his Yes is Yes, when he tells you No, it's No. And that is why he is one of those (Integrity Group) who believes in fairness. equity and justice," Mr Wike said.
"I do not want to market a weak product. Do you want to market a weak product (referring to the crowd)? You already know Seyi Makinde has done well since you gave him the mandate since 2019. And therefore, the only way can benefit more is for you to allow him to continue the good works he has started.
"Let me use this opportunity and tell all of you (the electorates) if anybody is contesting (for the Oyo guber election) in other parties, today, 5th January 2023, please I'm giving you the final notice, withdraw now!
"The people of Oyo have spoken that it is PDP. Vote for Seyi as governor, vote for House of Reps, vote for NASS (National Assembly). The other one (presidency), Seyi, will talk to you."
Members walk for Atiku
Meanwhile, barely 24 hours before the rally, a large crowd of PDP members and support groups had held a solidarity work for Atiku in Oyo State.
The walk was led by the National Mandate Group, Oyo chapter which comprises party stalwarts, youths, women and mobilizers from across the state. They were seen on major streets in the Ibadan metropolis marching with banners and campaigning for Atiku ahead of the 25th February presidential election.
Leading the Freedom Walk For Atiku were former Minister of State for FCT, Olajumoke Akinjide; Wole Oyelese, a former minister of mines and steel development; Azeem Gbolarumi, former Oyo deputy governor, and Femi Babalola, popularly called Jogor.
Speaking with journalists in Ibadan on Wednessday, one of the conveners of the group, Ms Akinjide, said Atiku is a Pan-Nigerian who will lead Nigeria out of her current socio-economic and political challenges.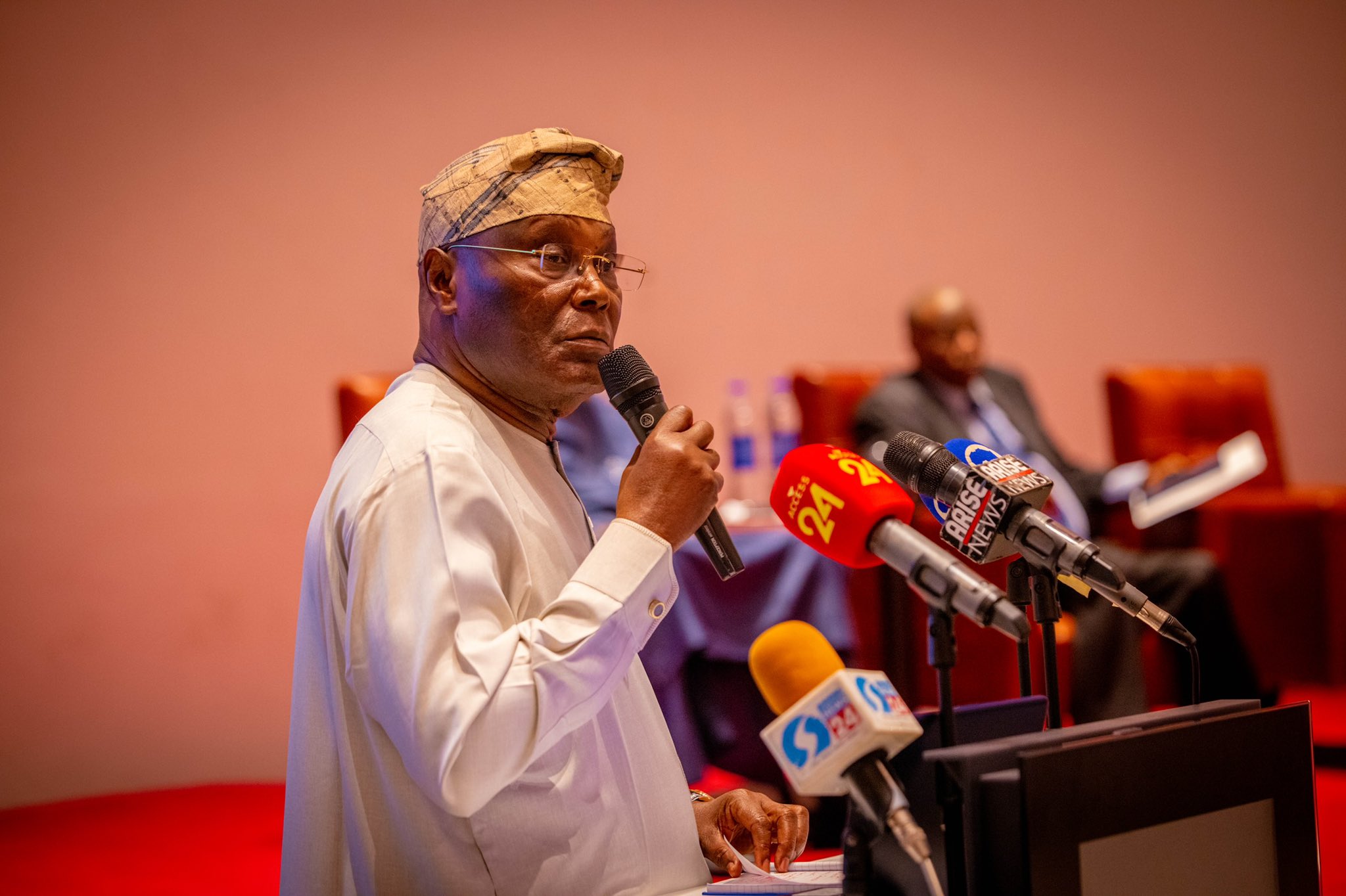 "We will campaign for Atiku in Oyo on the basis of merit and on the basis of fidelity to our great party. There's really no divide in the PDP. It is a fight for space. So, I don't think the public should worry themselves because the day they make up, they'd be on television smiling and back slapping and calling each other brother and you wonder why you wasted so much energy on it.
"Let us face what is of concern to 200 million Nigerians which is the Five Points agenda to recover and restore Nigeria which Atiku is proposing.
"Our pesidential candidate, Atiku Abubakar, is promising to unite Nigeria, secure the country, build a prosperous economy, restructure and devolve power to the federating units, education system that allows our people to compete nationally and globally and these are core issues that are of interest to the Nigerian people," she said.
---
Support PREMIUM TIMES' journalism of integrity and credibility
Good journalism costs a lot of money. Yet only good journalism can ensure the possibility of a good society, an accountable democracy, and a transparent government.
For continued free access to the best investigative journalism in the country we ask you to consider making a modest support to this noble endeavour.
By contributing to PREMIUM TIMES, you are helping to sustain a journalism of relevance and ensuring it remains free and available to all.
Donate
---
---
---
---
TEXT AD: Call Willie - +2348098788999
---
---
---
---
---