The Oluwo of Iwo, Abdulrosheed Akanbi, has sternly rebuked former President Olusegun Obasanjo for his controversial "stand up order" directed at traditional monarchs in Oyo State.
The incident occurred on Friday during the inauguration of a project in Iseyin, Oyo State, where Mr Obasanjo was the special guest of honour.
In a short video circulated on the internet, the former president expressed his displeasure at the seated monarchs' failure to rise and greet Governor Seyi Makinde, citing it as a sign of disrespect for the Governor's office.
Mr Obasanjo's commanding tone shocked onlookers as he insisted on the traditional rulers standing up.
Reacting to the incident, the Oluwo of Iwo issued a scathing statement through his Press Secretary, Alli Ibraheem.
He condemned Mr Obasanjo's actions as an insult and a deliberate desecration of the revered Yoruba traditional institutions.
The Oluwo emphasised that respect should be earned and not demanded, pointing out that traditional rulers deserve respect from those they encounter.
The Oluwo stressed that kingship is a divine institution and should be treated with the utmost modesty, courtesy, and respect. He expressed disappointment in the monarchs who complied with Mr Obasanjo's directive, holding them responsible for their actions.
In a solid call to action, the Oluwo demanded a formal letter of apology from the former president, asserting that Yoruba monarchs should not be treated as mere subjects to be ordered around.
Obasanjo's Stand-up Order
Speaking in Yoruba, Mr Obasanjo issued a command to the seated traditional leaders, compelling them to rise and greet the state governor, Seyi Makinde.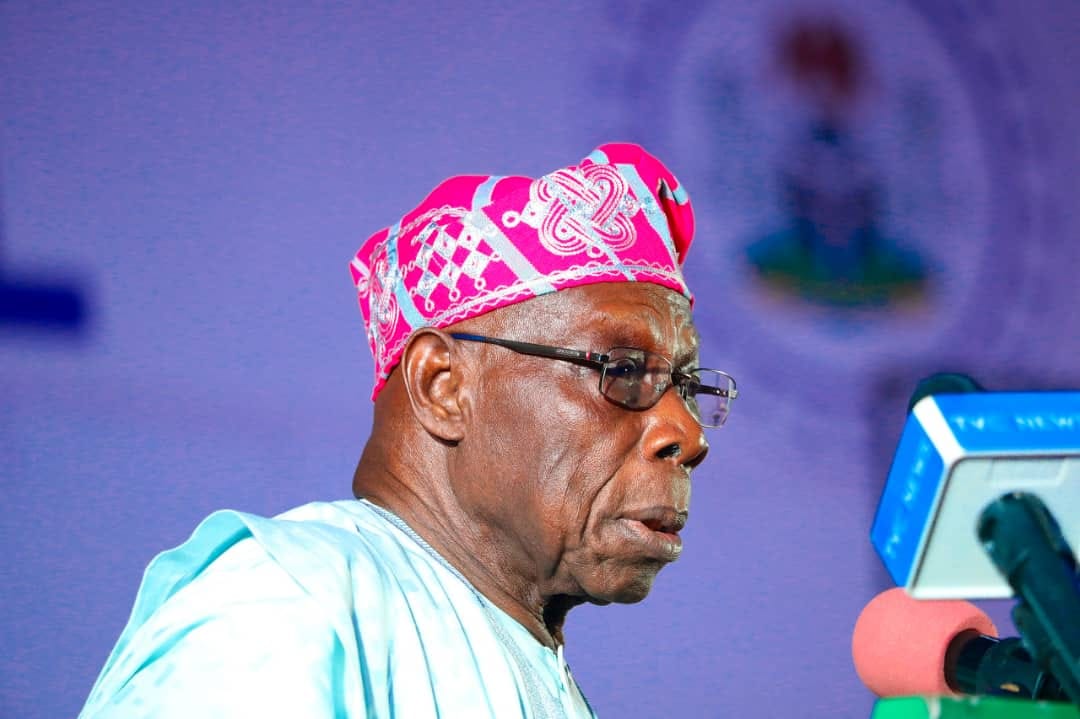 Mr Obasanjo, invited as a distinguished guest by Governor Makinde, had arrived in Iseyin to inaugurate the Iseyin Campus of the College of Agricultural Sciences and Renewable Natural Resources at Ladoke Akintola University of Technology.
He also graced the event as the special guest of honour, unveiling the commemorative plaque and officially inaugurating the project. Before this, Mr Obasanjo had already commissioned the significant 34.85-kilometer Oyo-Iseyin Road project.
In a surprise turn of events, Mr Obasanjo, whose authoritative tone resonated like a military commander issuing orders to his subordinates, expressed profound disappointment at the seated monarchs' perceived lack of respect and disregard for the governor's office.
In his stern address to the visibly astonished royal fathers, Mr Obasanjo emphasised the Yoruba culture's dual reverence for age and position.
He stressed that the role and authority of a governor or President at any gathering take precedence over that of any traditional ruler in attendance. Mr Obasanjo noted that despite Governor Makinde's relatively young age, his office commands high respect from the traditional leaders.
Oluwo's Statment
In the wake of the incident, on Saturday, the Oluwo of Owo, in a statement through his Press Secretary, Alli Ibraheem, described the action of Mr Obasanjo as an insult, intentional blasphemy and sacrilege against revered stools of Yorubaland.
The revered monarch insisted that the former president would not have dared a similar feat with the Northern Emirs.
The statement reads: "Desecration of Traditional Institution In Yorubaland By Former President Olusegun Obasanjo -Oluwo.
I trust myself and my stool. At death, there are certain things my soul will not take, let alone when alive, active and kicking. I only blame the monarchs who stood in obeisance to such an ignoble and desecrating of traditional institutions from the old man. Respect should be earned, not demanded.
Traditional Rulers respect their subjects, too. There is a way respect is accorded to people of old age and position by monarchs. Kingship is an institution of God. As such, relating with kings requires a high sense of modesty, courtesy and respect.
The display by the former president of Nigeria, General Obasanjo, was an affront, an intentional desecration and sacrilege against the revered stools of Yorubaland. An injury to one is an injury to all. Yoruba traditional rulers are not uniform men anyone can command at will. I don't blame him. Those Royal Fathers who obeyed such an embarrassing direction are to be blamed.
I've strong assurance that such will never happen in some few monarchs. I will not mention "Iwo kogba igbakugba"
The show by the former general is condemnable. Yoruba traditional institutions demand an apology for the open desecration to molest and bring down the institution. He must prove himself as a core Yoruba man with an apology letter. Kings are not toddlers. We are fathers. He will never dare that against the Northern Emirs.
This action should greatly challenge the Yorubas, especially the Royal Fathers. This resulted when monarchs joined the Ogboni confraternity and became juniors to roadside mechanical engineers or carpenters. As a responsible monarch, you don't have to join any secret society where a teacher or herbalist may control you."
---
Support PREMIUM TIMES' journalism of integrity and credibility
Good journalism costs a lot of money. Yet only good journalism can ensure the possibility of a good society, an accountable democracy, and a transparent government.
For continued free access to the best investigative journalism in the country we ask you to consider making a modest support to this noble endeavour.
By contributing to PREMIUM TIMES, you are helping to sustain a journalism of relevance and ensuring it remains free and available to all.
Donate
---
---
---
---
---
TEXT AD: Call Willie - +2348098788999
---
---
---
---
---