Ahead of Nigeria's presidential and National Assembly polls on 25 February, presidential candidates of the leading parties have promised to revamp the country's ailing agriculture and mining sectors if elected.
Before now, agriculture was the mainstay of Nigeria's economy. The sector, according to the World Bank, employed over 70 per cent of the labour force, accounting for as much as 62.3 per cent of the nation's foreign exchange earnings.
Since independence, several agricultural policies have been implemented to achieve food security in Nigeria but the nation still struggles to attain food sustainability. Food inflation has remained high, making it difficult for millions of Nigerians to afford basic meals amid depleting incomes.
The situation isn't any different in the mining sector.
Nigeria is enriched with over 34 commercially viable solid mineral deposits across the country, according to the Nigeria Extractive Industries Transparency Initiative (NEITI) occasional paper on Improving Transparency and Governance for Value Optimisation in Nigeria's Mining Sector.
From 1903, the country had modest exploration and exploitation with intermittent growth, up to 1960. Tin, columbite, coal, and so on, were the early solid minerals that contributed significantly to Nigeria's economy but declined due to the oil boom that started in 1970 till date.
The sector is still largely underdeveloped despite its promising performance a few decades ago and huge proven deposits of valuable minerals across the country.
PREMIUM TIMES highlights the promises made by the leading candidates in the forthcoming election.
Peter Obi of the Labour Party
The former governor of Anambra State, in his manifesto titled "Our pact with Nigerians: Creating a New Nigeria" said he believes that diversification of the economy can be attained through increasing the value addition and export potential of the country's agriculture and natural resources value chain.
This, he said, would be achievable through targeted export incentives and deliberate actions in scaling up the development of manufacturing and technology. He said his administration would create a monitored scheme of targeted funding to entrepreneurs taking advantage of the capacity development he had outlined.
He also promised to create a radical reform of Nigeria's logistics and distribution systems including ports, customs, and trade facilitation instruments to raise the competitiveness of our products and ease of doing business and reduce high trade costs that have impeded our non-oil export competitiveness.
Mr Obi said he would strengthen product quality support to ensure that products are of the right quality to gain market share with higher reputational advantage and branding opportunities to capture more value within AfCFTA and global markets.
"Incentivising and investing in agro-cluster and industrial cluster development across our geo-resource zones to take advantage of agglomeration and scale effects," he noted.
Mr Obi, among other things, said he will aggressively prioritise the mechanisation of the huge endowment of arable land across Nigeria, particularly in the northern region, to make agriculture the new oil of a prosperous Nigerian economy.
To curb the existential threats of climate change on food production, the LP candidate said: "We shall establish a Green Army tasked with identifying all opportunities to tap into the $3 trillion international climate finance to engineer Economic growth and employment for millions of our youths and transition our country to the green epoch."
On mining, Mr Obi promised to resuscitate the Ajaokuta Steel Company if elected Nigeria's next president. Speaking at a rally in Lokoja, the Kogi capital in December, he said he would bring prosperity to all the three senatorial districts of Kogi, with the enormous resources endowed naturally by God.
He expressed optimism that a functional Ajaokuta steel project would bring about the employment of millions of unemployed youths with economic prosperity, among others.
"Steel industry is very important to the development of the economy, therefore, we will liaise with professionals and experts who know what to do with the Ajaokuta steel company immediately we are sworn in," Mr Obi said.
Speaking on AIT Policy Dialogue with the theme "Ending Illegal Mining in Nigeria", earlier in February, the Labour Party spokesperson, Yunusa Tanko, said the former Anambra State governor intends to intensify efforts to ensure that Nigerians, especially those in the states benefit directly from the mining activities in their communities.
He noted that Obi's administration will strengthen the federal government's networking capabilities with the 36 state governments to enhance production activities in the mining space and turn the sector into a strong job-creating hub for the country.
Bola Tinubu of APC
The former governor of Lagos State and presidential candidate of the ruling APC, Mr Tinubu said he would introduce commodity boards to establish minimum prices for strategic crops such as cashew, cocoa, sesame, soya, cassava, yam, rubber, okra, palm kernels, groundnut and okra.
This, he said, will guarantee minimum incomes for farmers, improve certainty and increase their capacity to produce more of the food staples needed to sustain the nation's growing population.
The APC candidate said he will, working with the private sector, also seek to deepen the use of commodity exchanges and strengthen their operations in order to ensure even greater transparency and stability.
In the 50s, Nigeria was a leading agricultural economy, being the largest producer of palm oil, groundnut, cotton and cocoa globally. However, the discovery of crude oil led to the neglect of the sector.
Mr Tinubu promised Nigerians in his manifesto that he will modernise and expand agricultural production and enhance strategic grain reserves, guide against food shortage and enable the nation to maintain stable prices for important staples.
"We shall also work with State and Local Governments (through the establishment of another incentive-based Federal Government funding programme) to construct fresh produce storage facilities in major marketplaces of major cities and towns to minimise waste and better preserve perishable food items," the APC policy document said.
As part of efforts to revamp the agriculture sector, Mr Tinubu noted in his manifesto that the governance and structure of the Bank of Agriculture (BoA) will be reformed to enable the bank to fulfil its core mandate to provide farmers with access to low-cost loans. He said BoA loans will be strictly limited to farm-related investments and will be primarily directed towards the growth of strategically important crops. He said such loans will be carefully monitored.
"Initiatives such as the Anchor Borrower's Program and agricultural credit guarantee scheme will be expanded and deepened to touch more rural communities and provide more capital per individual participant," his manifesto states.
Mr Tinubu said his administration shall provide an enabling environment that would encourage the construction of small-scale irrigation and water catchment systems by private sector participants using modern technology and equipment.
This project, he said, is expected to boost food production and employment while helping to mitigate the harmful effects of extreme weather cycles and climate change.
In addition to this, the APC candidate noted that participation in the project will support domestic farmers and link farmers to markets and food processing plants.
"Where feasible, we will encourage local farmers to form voluntary cooperatives, enabling them to pool their resources so that they can buy or lease modern farming equipment, tools and fertiliser," Mr Tinubu said.
According to Mr Tinubu, only approximately 35 per cent of Nigeria's arable land is presently under cultivation. Based on this, he stated that his administration's target shall be to increase this number to 65 per cent within four years.
He said his "Farm Nigeria project" will begin with a special focus on the 11 river basins throughout the country, explaining that the aim of such an innovative project will be to make more arable land available for agriculture.
On Mining, the former governor of Lagos State during a town hall meeting with the mining and agro-processing industry players in Lafia, the Nasarawa State capital in November, promised that his administration will explore Public, Private, Partnership (PPP) arrangements to revive the Ajaokuta Steel Mill.
"My administration will ensure the full completion and operation of the Ajaokuta Steel Company under a viable Public-Private Partnership structure," Mr Tinubu said. He also lamented the inability of the country to utilise its natural endowment and resources, adding that he plans to increase the contribution of the mining sector to the GDP.
"Few nations are as well-endowed as Nigeria, given our industrious, energetic population and our vast inventory of land, water, and natural resources.
"Our beloved nation has abundant, commercially viable solid mineral deposits such as coal, limestone, iron ore, bitumen, lead, zinc, gold and a variety of gemstones.
"The solid minerals sector contributed less than 1 per cent to our GDP in 2020. We need to increase this amount every year. My administration will develop the solid minerals sector, establishing policies that will encourage investment for growth in that sector," he said.
Atiku Abubakar of PDP
On his part, the former Vice President of Nigeria and candidate of the PDP, Atiku Abubakar, in his manifesto titled: "My Covenant with Nigerians", noted that he envisions a new Nigeria without crude oil in which agriculture, manufacturing and MSMEs shall be the growth drivers.
Mr Abubakar said he hopes to create a commercially driven, technology-proficient and competitive agricultural sector that will ensure food and income security for a growing population that will contribute significantly to Nigeria's quest for economic diversification and export of non-oil commodities.
The PDP candidate said he will boost the country's food security index to 70 per cent from 40.1 per cent, and also reduce food import share currently estimated at 20 per cent to 5 or 10 per cent if elected.
Mr Abubakar promised to improve the agriculture sector's access to financial services, through the Nigeria Incentive-Based Risk Sharing system for Agricultural Lending (NIRSAL), by de-risking lending to the sector by commercial and development banks.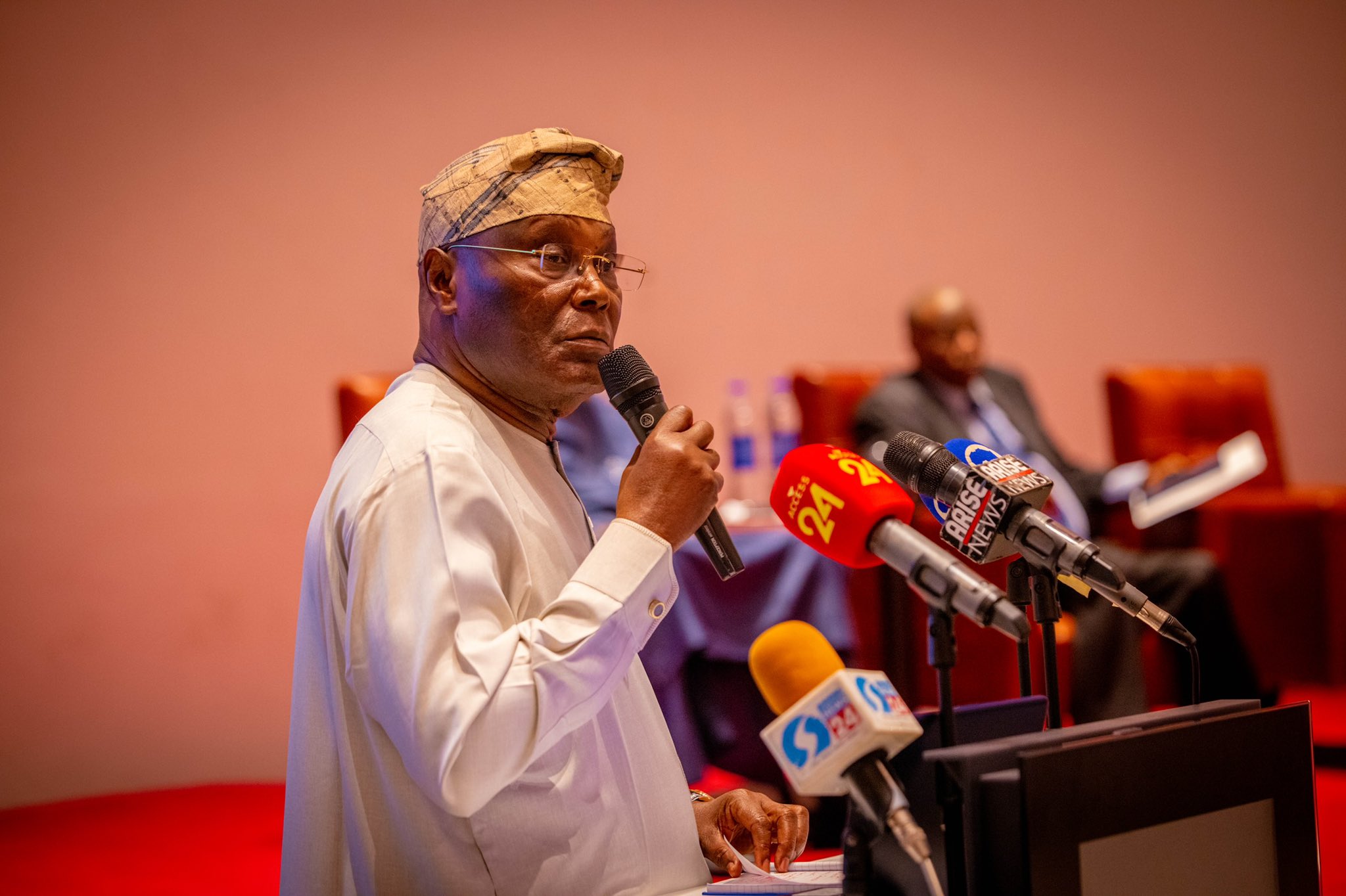 He explained that he will improve farming productivity through the modernisation and mechanisation of small-scale agriculture to international levels and elevate irrigation to a top policy priority and long-term investment priority and promote all-year-round food production through the expansion of irrigation facilities.
On Mining, Atiku pledged to restore peace and improve mining activities in Nigeria.
During his campaign rally in Plateau state and later in Abeokuta, the Ogun State capital, Atiku promised that he would prioritise the exploration of the mineral resources to provide jobs for Nigerians.
"We have promised to ensure industrialisation of Ogun State because Ogun State is endowed with so many mineral resources in order to create jobs and prosperity. The PDP government will make sure the exploration of those mineral resources in the industrialisation of Ogun is made a priority," he said in Ogun.
In Lokoja, the Kogi State capital, Atiku promised to fix the Ajaokuta steel company if he is elected president.
"I am very happy with the people of Kogi State for this show of support, the show of love. Most of the challenges have been enumerated by previous speakers, one of them is the issue of Ajaokuta. I want to confirm here that if you give us your support and elect a PDP government, the nightmare of Ajaokuta will be a thing of the past. I assure you this and it is a promise I have made on behalf of PDP," he said.
Rabiu Kwankwaso of NNPP
In his manifesto titled: "My Pledge to You," the candidate of the NNPP, Mr Kwankwaso, said he plans to revolutionise farming practices by investing in technology, training and extension work with the objective of attaining national food security as well as capturing substantial market share of food in the African continent.
The former Kano State governor said: "We pledge to ensure the deployment of global best practices in the establishment and management of forestry, plantation, animal husbandry, livestock, poultry and fisheries as well as guarantee an agriculture value chain that protects the farmers, the livestock owners as well as the consumers."
On Mining, Mr Kwankwaso said the policy thrust of his administration is to ensure that the petroleum /petrochemical industry is fully developed to attain full exploitation, exploration and protection of the nation's mineral resources.
Mr Kwankwaso, a former governor of Kano State, said his administration will reactivate the country's coal mining industry and mineral resources that have hitherto remained unexploited. To achieve these, he said his administration shall hold non-exclusive rights over all mineral resources in the country. Other tiers of government and private individuals will be granted licenses to undertake mineral exploitation, he added.
He also promised "To undertake a comprehensive survey with a view to determining the quantities of each of the country's mineral resources" and "strengthen the Nigeria mining Corporation (NMC) and fund it adequately to enable it to carry out its functions effectively."
He said NNPP is committed to the development of a viable iron and steel industry, which will provide the necessary foundation not only for the small and medium-scale industrial establishments but also for the heavy industrial complexes that are the ultimate goals of the nation.
Key suggestions
For Africa's most populous country to effectively and efficiently revamp its agricultural sector, achieve the maximum potential of its expansive arable land and economic diversification through the sector, a deliberate effort must be made to allocate at least 10 per cent of its annual budgetary allocation to the sector as enshrined in the Maputo declaration in 2003 which Nigeria is a signatory to.
More than 17 years after the African Union passed the Maputo Declaration, which among other things stipulates the allocation of 10 per cent of federal budgets to the development of agriculture, Nigeria is yet to implement the agreement.
Meanwhile, none of the leading candidates promised to implement the Maputo accord if elected.
In the same vein, there is a need for a deliberate effort to upscale accountability and transparency with regard to funds disbursed for initiatives in the sector.
---
(The production of this report was supported by the Centre for Democracy and Development, CDD).
---
Support PREMIUM TIMES' journalism of integrity and credibility
Good journalism costs a lot of money. Yet only good journalism can ensure the possibility of a good society, an accountable democracy, and a transparent government.
For continued free access to the best investigative journalism in the country we ask you to consider making a modest support to this noble endeavour.
By contributing to PREMIUM TIMES, you are helping to sustain a journalism of relevance and ensuring it remains free and available to all.
---
---
---
---
TEXT AD: Call Willie - +2348098788999
---
---
---
---
---